GUYS GUYS GUYS GUYS GUYS! I'm beyond excited right now and I'm typing at about 7x my standard speed because I am bringing this amazing Healthy Banana Bread recipe to y'all. This is without a doubt the BEST Banana Bread I have ever made, and eaten, in.my.life.
This is real people, not a joke, nor an exaggeration.
This creation right here? You're DAMN RIGHT I'M PROUD OF IT.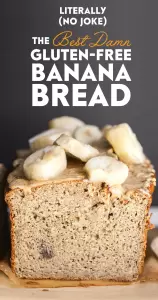 Ingredients:
240g (2 cups) Oat Flour.

96g (½ cup) Honey.

4 tsp Double-Acting Baking Powder

1 tbs Ground Cinnamon

¼ tsp Salt

1⅓ cups Unsweetened Vanilla Almond Milk or any type of Milk.

345g (1¼ cups) Mashed Bananas, very ripe (I used frozen/completely thawed bananas)

128g (½ cup) Roasted Almond Butter

3 Large Eggs

1 tbs Vanilla Extract

1½ tsp Stevia Extract
Instructions:
Preheat the oven to 350 degrees Fahrenheit. Spray a 9×5" loaf pan with cooking spray and line one way with parchment paper for easy removal later.

n a medium-sized bowl, whisk together the oat flour, baking powder, cinnamon and salt.

n an electric stand mixer bowl fitted with a whisk attachment, add the almond milk, mashed bananas, almond butter, eggs, vanilla extract and stevia extract. Mix on low speed.

Add the dry ingredients to the stand mixer and increase the mixer speed to medium. Mix until the ingredients are fully incorporated. Scrape down the sides of the bowl if necessary.

Pour the batter into the prepared loaf pan. Bake for ~70 minutes, or until the surface forms a light crust and springs back when tapped.

Let cool in the pan for 1 hour, then transfer the loaf to a wire cooling rack to cool completely. Slice and serve, or store in a tightly sealed container in the fridge for up to 4 days.
By Dina Atout