I always searched about the perfect healthy Kind of bread, after years of investigation i discovered that most of shelf products are full of processed flour & Sugar!
As a person who suffered from obesity & so many health conditions i dedicated myself for years now to search about the perfect clean products!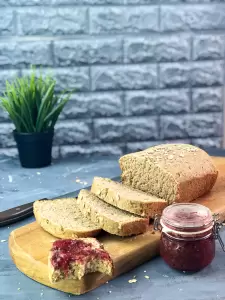 This version of healthy honey & oats bread while turn your world upside down, it's really everything you will need.
Full of fibers, vitamins B that are essential for brain functioning & balancing your hormonal levels which are a key element in weight loss & general health!
Ingredients:
-90g Oats.
-3 cups whole wheat flour.
-1 cup of extra warm water.
-2 tbsp honey.
-2 tbsp olive oil.
-Salt.
-1 envelop active dry yeast.
Instructions:
in a bowl put the oats, honey, oil, salt & the extra warm water until it cool down a little, Mix all the ingredients using the stand mixer or your hands until you have a beautiful dough.
it will take around 35min in the oven, cover it immediately when it's ready!